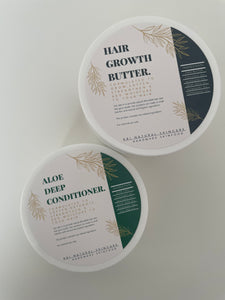 A&I NATURAL SKINCARE
Growth Hair Butter
Regular price
£15.00
£0.00
Unit price
per
Tax included.
Shipping
calculated at checkout.
Growth Hair Butter
The Hair Growth Butter is guaranteed for hair growth, hair thickening, hair strengthening and moisturising. It is an essential scalp conditioner aiding new growth, reducing hair loss, restoring damage to split ends and managing Dandruff. It is great for breaking and damaged hair and scalp conditions such as alopecia. The combination of oils including peppermint and rosemary essential oil will have your scalp tingling and feeling fresh knowing that stronger new growth is coming. Shea butter locks in moisture, so combined with the oils and essential oils, its a perfect compliment to your wash day and moisturiser routine.
Who is it for?
Natural hair
Curly Hair
Relaxed Hair
Colour Treated Hair
Damaged hair.
How to Use
Daily Moisturiser
Sealant
2-3 times a weeks on hair and scalp.
As a Leave in Conditioner 
Daily Moisuriser (a little goes a long way)
Can be used on Wet or Dry Hair 
Ingredients
Shea Butter - rejuvenates hair follicles, providing a better environment for growth, reduces breakage and heals irritaton without cloggind the pores.
Coconut Oil - is a dandruff fighter, moisturises dry brittle hair, aids growth and prevents breakage.
Castor Oil - effective for hair loss, growth, thickening, dandruff and repairs split ends.
Olive Oil - effective for strengthening, growth, detangling and scalp irritation.
Avocado Oil - Prevents hair loss, Nourishes, adds Moisture and shine, strengthens the hair root.
Hemp Seed Oil - For dryness and inflammation, thickens hair and prevents dandruff and enhances hair growth through Omega 3,6 and 9.
Rosemary Oil- stimulates new hair growth, reduces loss, removes dandruff, soothes itchiness and scalp inflammation and gives hair volume.
Peppermint Oil- stimulates bloosdflow to the hair follicle which then provides new growth.
Care Instructions

Please keep away from direct heat and store in a cool dry place. The butter will melt in near or in direct sunlight as is does not contain any preservatives.

Incase it does melt, don't worry, store it in a cool dry place until it solidifies, it still contains all its therapeutic properties.
---